A Brief Bio of Chan Master
---
Truth Seeking and Enlightenment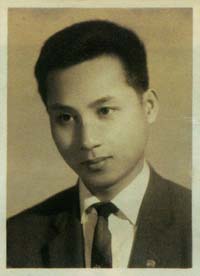 Chan Master Wu Chueh Miao-Tien was born with the legal name of Ming-Liang Huang in the city of Pingdong in Taiwan. At the time of his birth, both the sun and the moon were present and the room was very bright. He was therefore named Ming-Liang (or brightness in English). Chan Master was born during the second world war. His mother died while he was still a child. Realizing the hardship for his father to raise him, he joined the army at a young age. He graduated from the National Defense University and worked for the Ministry of National Defense until the age of forty.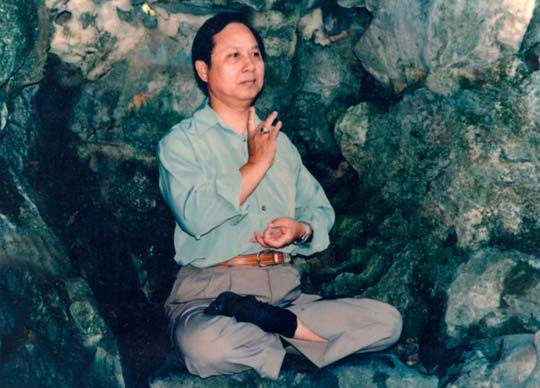 Suffered from impermanence during his childhood, Chan Master Miao-Tien vowed to dedicate his retiring life seeking true meaning of our existence. His great commitment resulted in meeting the Eighty-fourth Patriarch of Chan, Master Jingzai, through the Dharmakaya of Quanyin (Avalokitesvara) Bodhisattva. Under Chan Master Jingzai, he practiced "heart-to-heart imprinting prajna jhana", just as what Buddha described, "The treasure of orthodox dharma eye, the indescribable heart of nirvana, the true formless form, to be transmitted without language and outside of doctrines and rituals." Eight years later, Chan Master Miao-Tien was transmitted with Buddha Heart Imprint privately by Chan Master Jingzai. He was also blessed and transformed by the Dharmakaya of Shakyamuni and other Buddhas. Thus Chan Master Miao-Tien inherited the lineage of the Linji Order as the Forty-eighth Patriarch, the Fifty-eighth Patriarch since Master Bodhidharma, and the Eighty-fifth Patriarch since Shakyamuni Buddha.
Establishing Chan Centers
Recognizing the effect of communal karma, such as the deterioration of humanity and the increase of social unrests and natural disasters, Chan Master Miao-Tien vowed to awaken the Dark Ages of Buddhism with the bright dharma of Shakyamuni. He is commited to transform Buddhists from the superficial, convenient and external practice onto the correct, direct and internal practice, and enable everyone to witness self nature and be enlightened in this life through the "treasure of the dharma eye".
Though a lay way to promulgate Buddha's orthodox teachings is more challenging than ever and will certainly be filled with hindrances, after careful contemplation, Chan Master Miao-Tien still decided to teach the true dharma of Shakyamuni Buddha with a lay appearance. This decision is made to illustrate one of the essences of Chan — breaking all norms and forms, a well-known essential practice in the tradition of Chan Buddhism, because the current Buddhists are already lost in worshiping the form and not cultivating the spirit. At the same time, Chan Master Miao-Tien also tries to alter the public belief that Buddha dharma can only be taught by monastic practitioners with shaved heads and wearing robes. This is a critically important decision, because it is the only way to exemplify the true essence of Buddha's teaching—without words and outside of doctrines and rituals. In other words, what really matters in Chan is not the appearance or the external form, but the internal formless spirit. Only upon a successful integration of the external physical self and the inner spirit, then could we be liberated from our continual reincarnations across many lifetimes and our inner spirit could then be free. This is the ultimate goal of the Chan practice. Buddhahood is not about the external look, but to terminate generations of reincarnation and reach the state of nirvana. Buddha even said, "If you meet me with your flesh or beg me with your voice, you could not see me, because these are the incorrect way." Awakening to our true purpose of life and witnessing our self nature are the only objectives in Chan practice which is unrelated to any form whatsoever. Chan Master Miao-Tien strongly advocates that every lay person who practices the true dharma will live a liberated life.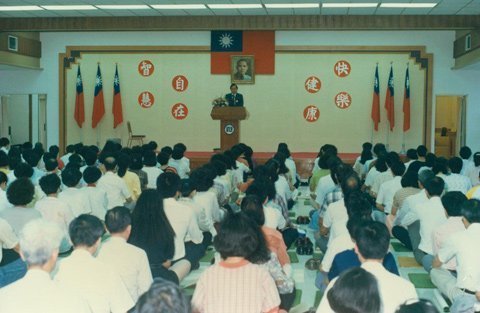 Hence in 1983, Chan Master began to establish Chan centers throughout Taiwan, pioneering the concept of urban Buddhism. This approach was later adopted by other Buddhist schools. In 1988, "Chinese Heart Chan Development Foundation" was formed and then was renamed in 1994 to "Chinese Heart Chan Educational Foundation" teaching "Heart Imprinting Dharma" and establishing Chan clubs in universities, schools, organizations, corporations and government agencies, etc. as well as visiting jails and rehab facilities helping people to conquer their own violent nature or addition to drugs.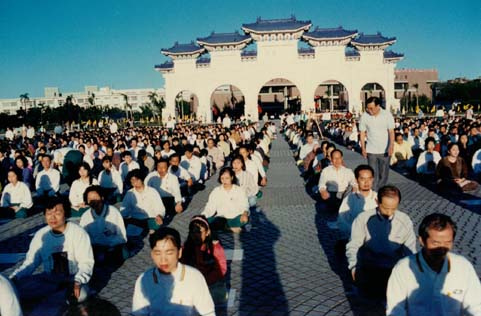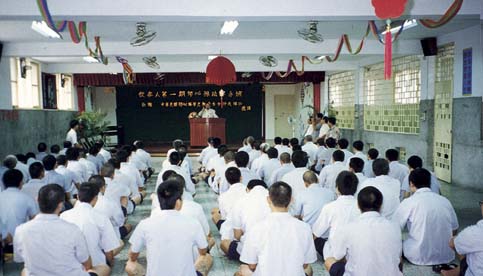 Promulgating Buddha's Dharma
From 1994 to 1998, Chan Master organized several huge dharma assemblies. Such as the assembly titled "Heart Imprint Chan. Witness Self Nature and Be a Buddha." at the City of Taoyuan on December 17, 1995. Over 60,000 practitioners participated in this assembly.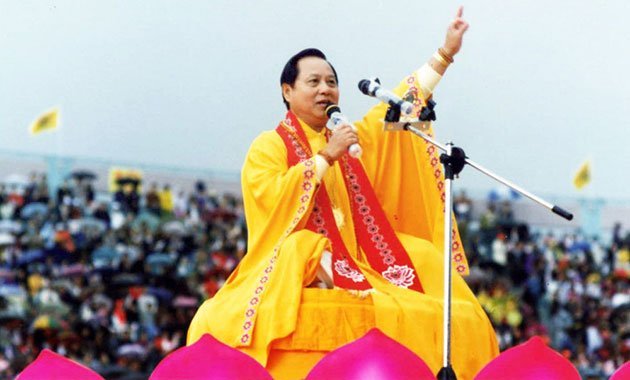 In 1999, Chan Master founded "Taiwan Chan Buddhist Association", entering the second phase of his teaching and transforming his academic teaching into spiritual teaching. It is called the "Heart Imprinting Dharma", the original and authentic dharma from Shakyamuni Buddha. It is rooted in the Buddhist sutras and supported with practices of Sitting Chan, turning superficial exercises into the practices of true dharma enabling every practitioner to be enlightened in this life time. Tens of thousands of people have joined and practiced.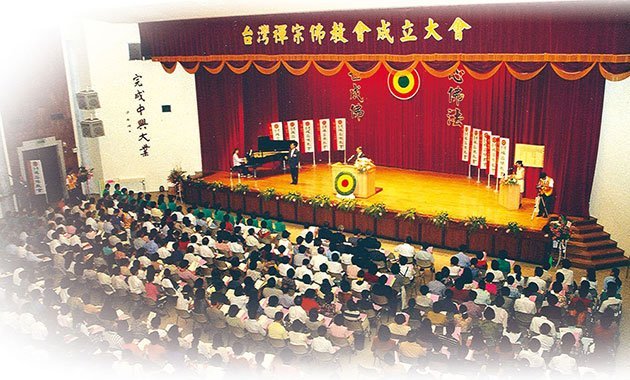 In the year of 2000, Chan Master organized "World Leadership Education Foundation" with the purpose of offering young people professional trainings of leadership skills as well as the development of inner wisdom and inner potential through Chan Ding. Its goal is to nurture future world leaders to possess religious compassion and political acumen, to lead with "greatness, perfection, love, and harmony", and to achieve world peace and the ideal of "one nation in the world and one family on earth." Over fifty thousand people have benefited from the seminars and forums, big and small, organized by the Foundation.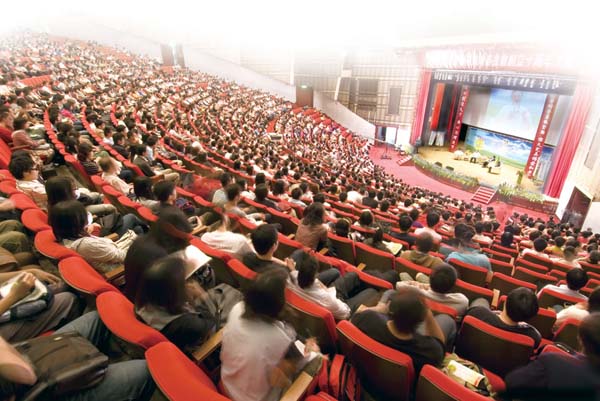 In October 2007, Chan Master led one thousand disciples to the Shaolin Temple in China to visit the birthplace of the Chinese Chan lineage, and to pay tribute to the First Patriarch of Chinese Chan, Master Bodhidharma, at his memorial pagoda in the Kongxiang Temple.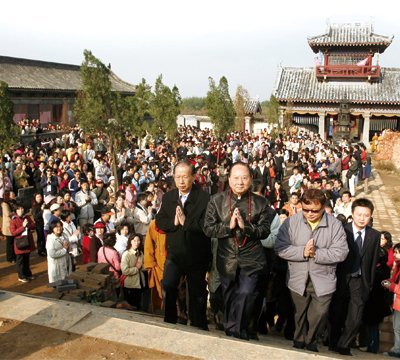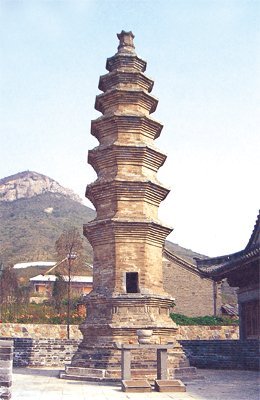 Advocating "Buddhaland on Earth"
In the twenty-eighth year since his enlightenment, Chan Master announced a new movement of "Let us all be Buddha and turn the earth into a Buddhist country". During his deep Chan Ding, Chan Master received a message from Shakyamuni Buddha that the Buddha had already setup the earth as a Buddhist country. As per Buddha's teaching, Chan Master shall lead his disciples into purity, wisdom, fulfillment and enlightenment, as well as to witness self nature and to reach Buddhahood.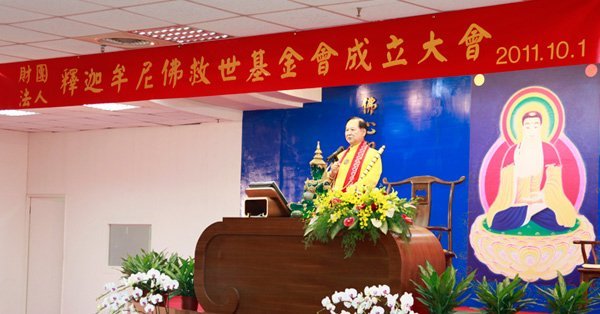 In order to fulfill the wishes of Shakyamuni Buddha—turning earth into a land filled with Buddha, in October 2011, Chan Master founded "Shakyamuni Buddha Foundation", continuing his efforts in setting up more Chan centers and facilitating more people to practice the "true dharma". Chan Master Miao-Tien will personally pass on the indescribable dharma of "Buddha Heart to Heart", "Buddha Heart Imprinting", and "Witness Self Nature and Be a Buddha". He shall continue to accomplish the wishes of Shakyamuni Buddha, turning our earth into a Buddha land, same as heaven on earth, and transforming Taiwan into a peaceful, healthy, happy, joyful and beautiful place. Then we could expand this accomplishment to the rest of the world. Chan Master sincerely wishes that all practitioners and believers of Chan as well as other Buddhist practitioners, could practice the true dharma, witness self nature, commit to turn our earth into Buddha land, and help people attaining Buddhahood, so that the world will be in peace.